Regular price
$12.50
Sale price
$9.50
Unit price
per
Sale
Sold out
Broad spectrum CBD distillate is a concentrated form of CBD that contains a variety of other beneficial compounds found in the hemp plant, including terpenes, flavonoids, and other cannabinoids, but with no detectable THC.
Share
View full details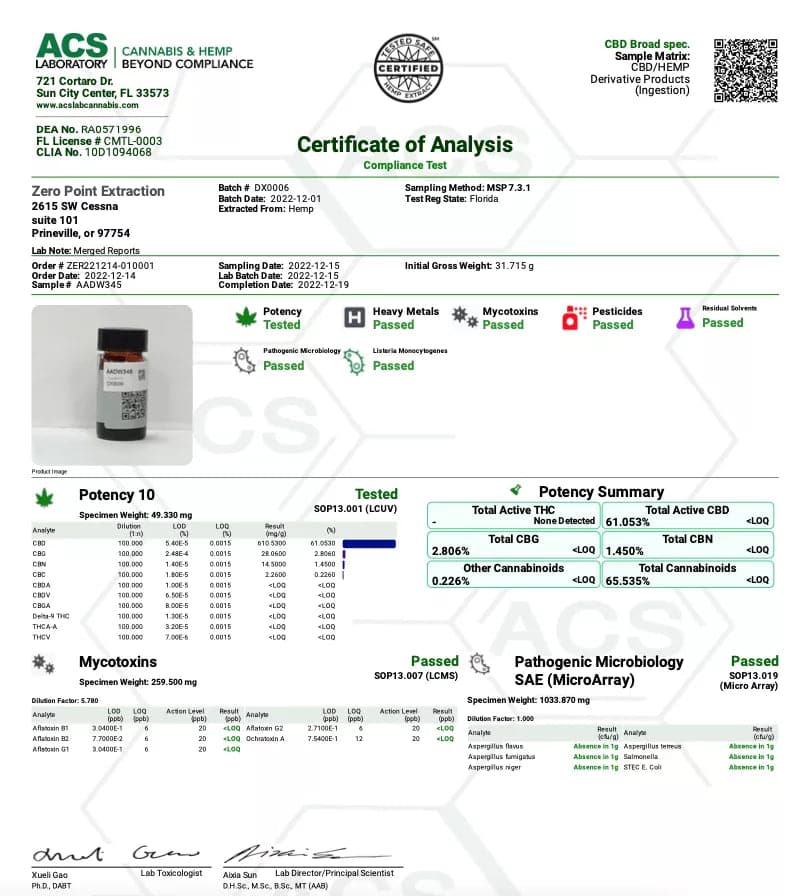 PRODUCT INFORMATION
DESCRIPTION

Unmatched Calming Experience

Unwind after a long day with our premium CBD Distillate. This high-quality distillate offers a unique blend of cannabinoids and terpenes that work harmoniously to help provide an escape from life's everyday stresses. Experience relaxation as you indulge in the soothing effects of Broad Spectrum CBD.

All-Natural, Pure Potency

Our distillate is meticulously crafted from non-GMO hemp, ensuring a potent and pure product free from pesticides, herbicides, and solvents. The advanced extraction process we employ guarantees that you'll receive the highest quality CBD with all its therapeutic properties intact. Trust in our commitment to purity and experience the difference for yourself.

Our CBD Distillate typically contains 61%+ CBD with the balance including minor cannabinoids such as CBC, CBG and CBN. It is non-detect for D9 THC.

Link to lab test page: CBD Distillate Certificate of Analysis

We send a sample from every batch that we manufacture to an accredited third-party facility for testing before we sell it to customers. We also test all input material and conduct internal HPLC testing throughout the manufacturing process.
SUGGESTED USE

Elevate Your Wellness Routine

Incorporate our Broad Spectrum CBD Distillate into your daily wellness routine and enjoy the numerous benefits it offers. CBD can help support a healthy immune system, promote a balanced mood, and assist with sleep.

Broad spectrum CBD distillate is a popular ingredient in a variety of CBD products, including tinctures, topicals, and edibles. It is often preferred by people who want to experience the potential benefits of a full spectrum product, but are hesitant to consume THC due to legal or personal reasons.

Uses include adding to;

Tinctures - One of the most common ways to use broad spectrum CBD distillate is to add it to a carrier oil such as MCT oil, and then take it orally as a tincture. The sublingual method of taking CBD allows for quick absorption through the mucous membranes under the tongue, allowing for faster onset and potentially more potent effects.
Topicals - Broad spectrum CBD distillate can also be used topically, by mixing it with a carrier oil or incorporating it into a lotion or cream. This can be applied directly to the skin and may help with localized pain or inflammation.
Edibles - Another popular way to use broad spectrum CBD distillate is by incorporating it into food or drink. Simply add the desired amount of distillate to your favorite recipe, or mix it into your morning coffee or smoothie for a tasty and convenient way to consume CBD.
Contains less than .3% Delta-9 THC

Precautions:

Always consult a doctor if you are modifying your diet or using any new products.
Do not take if you are pregnant, breastfeeding, or have a medical condition and are taking any prescription medications.
Store in a cool, dark location.
Keep out of reach of children and pets.
Not for Sale to Minors Under the Age of 18!
SHIPPING

ZPE retains the right to not ship to any states or territories where local laws conflict with the 2018 Farm Bill.
FREQUENTLY ASKED QUESTIONS
What is Broad Spectrum CBD Distillate?

Broad Spectrum CBD Distillate is a highly concentrated form of CBD that contains a wide range of beneficial cannabinoids, terpenes, and other plant compounds, but with no detectable levels of THC. This allows users to experience the synergistic effects of the hemp plant without any psychoactive effects.
How do I use Broad Spectrum CBD Distillate?

You can incorporate distillate into your daily routine in various ways. It can be added to your favorite recipes, mixed into tinctures, or even infused into topicals such as creams and balms for direct application to your skin.
Is Broad Spectrum CBD Distillate legal?

Yes, Broad Spectrum CBD Distillate is legal in most places, as it contains no detectable levels of THC. However, it's essential to familiarize yourself with the specific regulations in your area to ensure compliance with local laws.
Can CBD help with anxiety and stress?

While individual results may vary, many users have reported experiencing a sense of relaxation and calmness after using CBD. CBD has been shown to interact with the body's endocannabinoid system, which may help regulate mood, stress, and overall well-being.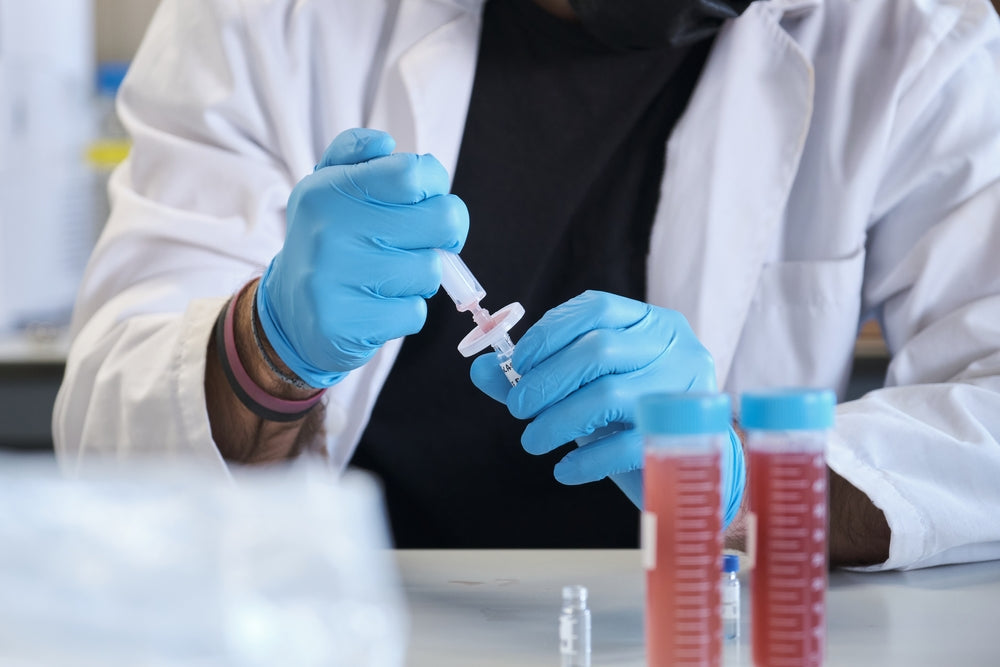 Lab Tested
At ZPE, we take the quality and safety of our hemp-derived products seriously. As part of our commitment to delivering high-quality products to our customers, we ensure that our products are tested by an independent, accredited lab for potency and purity.
We understand that transparency is important and that's why we make the results of these lab tests available online for everyone to see. Our customers can have confidence in the quality and purity of our products.
Lab Results